2015 LA Earthquake


The Epicenter

---

Date
Sept.9
Time
5:04 AM
Duration
27 Seconds
Magnitude
7.4
Depth
48.67 kilometers
Epicenter
Palos Verdes
Type
XVI
Areas affected
SoCal
Total damages
$82.5billion (2015 USD)
Maximum intensity
Very Intense
Foreshocks
0
Aftershocks
~100
Total casualties
6,294
The 2015 LA earthquake was very deadly, powerful, and destructive. Coming in at 7.4 on the Richter Scale. Its magnitude made it one of the strongest earthquakes in California history. The earthquake occurred north of the Palos Verdes Fault, which was thought to be harmless, but clearly, they were wrong.
The Earthquake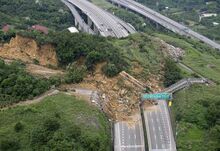 At 5:04 AM, September 9, 2015, the Palos Verdes Fault released a massive earthquake. With most of the surrounding area being asleep, the earthquake came as a sudden shock for the area. People heading to work in their cars spun out of control smashing into walls and buildings on the side of the road. The high rises in downtown Los Angelas swayed back and forth, raining down broken glass from the windows down on the streets below. In Chino Hills, mansions on stilts came crashing down the hills. The severe shaking caused large landslides all across the Santa Ana and San Bernardino mountains, crushing houses in their wake.But, after the longest 27 seconds most people had ever experienced, it all came to a abrupt stop.
Aftermath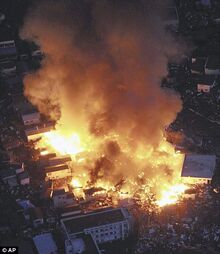 After the earthquake ended, massive fires broke out all over LA County. Thousands of 911 calls poured into local police stations from all over Southern California. Multiple firefighters had already died fighting fires when the first aftershock happened, measuring 6.5 on the Richter Scale. As a result of the quake, 6,294 people perished that night. The 7.4 shaker also caused more then 100 aftershocks as well as causing $82.5billion (2015 USD) in damages.
Aftershocks
The 7.4 earthquake had over 100 aftershocks, ranging between 5.0 and 7.0 on the Richter Scale. The biggest aftershock happened on September 23 and registered 7.0 on the Richter Scale.The 7.0 aftershock killed 103 people and caused $1.4billion (2015 USD) in damages.