Tropical Depression 13W
Tropical depression (SSHS)


13W at peak strength.

---

Formed
March 10
Dissipated
March 12
Accumulated Cyclone Energy
Not included.
Highest winds
35 mph
(1-min)
Lowest pressure
1000 mbar
Damages
Minimal
Direct Fatalities
None
Indirect Fatalities
None
Missing
None
Areas affected
Russia (Sakhalin)
Part of the
2020 Pacific typhoon season
Tropical Depression 13W was a weak cyclone that affected Russia. It created little damage.
Meteorological history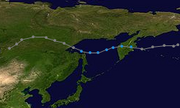 The origins of 13W was from a dying cold front near Amur Oblast. The cold front moved toward the Sea of Okhotsk and spawned a small, tight low pressure area on March 9. The next day, the low pressure rapidly strengthened and JMA and JTWC started issuing advisories for Tropical Depression 13W. The depression was unusually small and had small rainbands. On the same day, it made a direct hit near Sakhalin Oblast. 13W reached peak strength on March 11, while still in Sea of Okhotsk. Low sea surface temperatures later caused the depression to weaken slowly. On March 12, 13W made landfall on the Kamchatka Krai and turned extratropical. The extratropical remnants made landfall near Quinhagak, Alaska and dissipated.
Impact
13W dumped 1 centimeter of rain in Sakhalin. In Kamchatka, the rain was measured ½ centimeter. Little or no damage was created and no watches and warnings were issued for 13W.
Records
13W was the northernmost forming tropical cyclone on record, at 55° north.