Tropical Storm Bernice
Tropical storm (SSHS)


Tropical Storm Bernice near Bermuda

---

Formed
April 30
Dissipated
May 5
Accumulated Cyclone Energy
1.24
Highest winds
70 mph
(1-min sustained)
Lowest pressure
990 (mbar)
Damages
None
Direct Fatalities
0
Indirect Fatalities
0
Missing
0
Areas affected
Bermuda
Part of the
2100 Atlantic hurricane season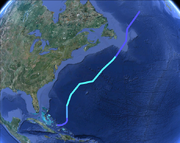 Tropical Storm Bernice was a strong tropical storm that brought light rainfall to Bermuda. It was the second named storm of the record-breaking 2100 Atlantic hurricane season.
Meteorological history
On April 27, a cold front extended from the Northwestern Caribbean to the Central Atlantic, as a component near the Bahamas remained nearly stationary. It became better organized, and started to move eastward. The NHC gave it a 10% chance of development on April 28. Environmental conditions were somewhat favorable for development. On April 29, it became much more organized, and the chances increased to 40%. It continued to become better organized and turned northward, and its chances for development increased to 70% that night. On April 30, it became organized enough to be declared a depression north of the Turks & Caicos islands. When it became a depression, it was the second time that 2 storms formed in April, after the 2063 season. It was also the first time since 2096 that there were 2 pre-season storms. The first storm of this season was Alan, which formed earlier in April.
Since environmental conditions were only somewhat favorable, it didn't become a tropical storm until May 1. Soon, the environmental conditions became more favorable, and Bernice started strengthening quicker. Some forecasts said that it could become a minimal hurricane. Bernice then reached its peak intensity of 70 mph, just below hurricane status, while passing to the northwest of Bermuda. There, it brought light rain to the island. It then continued moving northwestward and started to weaken in cooling waters. The last advisory was issued on Bernice on May 5, hundreds of miles south of Newfoundland. Its remnants continued northwestward and were absorbed on May 7. Over all, Bernice didn't cause any damage throughout its life because it mainly stayed in open waters. Although it passed near Bermuda, the island didn't receive any damage.
Preparations and impact
As Bernice was expected to bring rain to Bermuda, a tropical storm watch was issued for the island. However, the rainfall was lighter than expected on the island. So the watch was discontinued while Bernice was just passing near Bermuda.
Bernice didn't do much on the island other than causing rainfall. The rainfall was not nearly as heavy enough to cause damage or deaths. Because of lack of any damage throughout its path, Bernice was not retired, and remains on the list for 2106.