Tropical Storm Champi
Tropical Storm (SSHS)


Tropical Storm Champi

---

Formed
April 16
Dissipated
April 16
Accumulated Cyclone Energy
0.120
Highest winds
45 mph
(1-min)
Lowest pressure
1001 mbar
Damages
None
Direct Fatalities
None
Indirect Fatalities
None
Missing
None
Areas affected
None
Part of the
2020 Pacific typhoon season
Tropical Storm Champi was a short-lived, weak storm that did not affect any land mass.
Meteorological history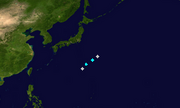 A weak low pressure area formed in the Philippine Sea. It had tropical-storm winds as it strenghthened. On April 16, JMA started issuing advisories for Tropical Storm Champi. 6 hours later, JTWC did the same thing. The storm peaked at that time. Another 6 hours later, Champi encountered 60 knots of wind shear and strong dry air. Champi lost convection and thunderstorm activity rapidly, and both JMA and JTWC issued their last advisory.
Impact
Because the storm did not come near land, it didn't cause any damage.